My niece is a nurse, so she will look after me.
If you are lucky enough, you will get here!
If you have heard it once, you have heard it a million times…
The answer is sure, some folks can!  The reality for most of us is…  we cannot.
It Costs Nothing To Find Out How Much
Long-Term Care Insurance Costs.
And, ARE YOU ONE OF THE PEOPLE THAT BELIEVES that Medicare or Medicaid will make it all better and pay for your Long Term Care so you are fine if you reach 65?  Not a chance.  My friends, nothing could be further from the truth. 
Here are some of the most common excuses for putting off a Long Term Care purchase:
* Indicates My Faves!
I'm in good health and do not anticipate a need for it.
Most people in my family die suddenly.
Nobody else in my family has ever had a long-term care policy.
My grandfather lived to be 95 and never needed assistance.
I've instructed my family just to take me out and shoot me. *Fave
I am a believer in assisted suicide should such an event occur.
As a Veteran, I expect the VA will take care of me.
I'm Heir to my aunt's estate – surely, she will die before me. *Fave
Our family is close and have committed to taking care of each other.
I have a method of eliminating my assets so I can receive government assistance.
I know I may need it, but it is just too expensive.
If I never use it, then I'm just throwing money out the window.
My niece is a nurse, so she will look after me. **Double Fave
I'll discuss it with my children and financial advisors to see whether insurance is a good option.
My children are afraid the premiums will be a drain on my assets.
I've never believed in insurance anyhow — t is all just a scam.
I'll think about it but just don't have time to consider it now.
I'll just put extra money away as soon as I take care of some other things.
Obviously, I have all sorts of statistics that say you are better off with a Long Term Care policy.  It's easy to cite chapter and verse on the trends of us living longer and needing this type of coverage, and wishing and hoping that we don't become uninsurable. My friend, That is a Whole 'nother kettle of fish!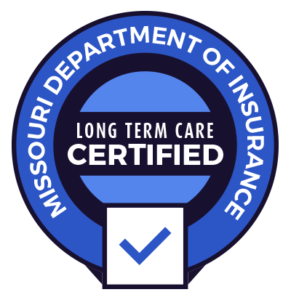 At Integrated Planning Strategies we are Certified, Long Term Care Producers by the State of Missouri and have undergone the training and completed the continuing education necessary to guide you in a direction that best fits your current and future financial needs.
Insurance is not a one size fits all.  And some of you may not need insurance at all because you can afford the what if's in life.  But most of us need to plan for the what if.  And we all hope we never have to experience that reality. 
It Costs Nothing To Find Out How Much
Long-Term Care Insurance Costs.